Events Calendar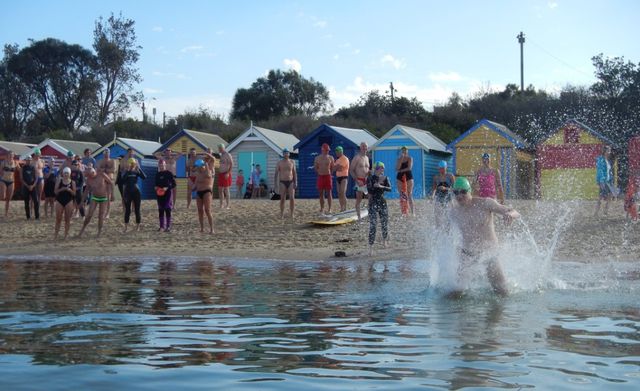 Community Events
BLSC hosted 52 Afgan Refugees as part of the annual, CALD (Culturally and Linguistically Diverse)(Day on the 10/12/16.
Swims
BLSC is very excited to announce that the innaugural Bathing Box Classic will be held on Saturday, the 9th December, 2017 at Dendy Beach, Brighton.
This is the first official event on the 2017/2018 Ocean Swim calendar.
Join us for these Open Water Swims - 2.6km (starting at 9.30am) or 1.2km (starting at 11am) at the picturesque and iconic bathing boxes.
Swim Categories, as follows:
- Junior (12-17 yrs)
- Open (18-29 yrs)
- (30-39)
- (40-49)
- (50-59)
- (60-69)
- (70+)
Entries are open NOW - Register for the Bathing Box Classic on the following hyperlink:
https://www.registernow.com.au/secure/Register.aspx?E=26850
Registration on the day, will be from 8am.
- $50 for one event or $75 for both (On the day entries are $60 and $80)
Rules and Regulations:
1. In an emergency during the swim leg, a swimmer will raise an overhead arm and call for or seek, assistance from water safety personnel (BLSC Life Savers). Swimmers acn accept flotation assistance without retiring from the event. Swimmers cannot receive propulsion assistance.
2. Swimmers who require assistance via the Inflatable Rescue Boats (IRB's) or Rescue Jet Skis, will be returned to shore and automatically retire from the race.
3. Swimmers must be 12 years or older on the day of the event to compete.
4. Swimmers may use any stroke to propel themselves and may tread water or float.
5. Swimmers must start in the wave with their corresponding cap colour as given to them at registration.
6. A swimmer must be wearing the approved swim cap given to them at registration to start their swim. The swim cap can be removed once at the transition area.
7. Participants must be wearing the transponder (timing bracelet) given to them at registration at all times during the swim.
8. A swimmer shall not wear propulsion devices of any kind including, but not limited to, fins/flippers, paddles, flotation devices or buoyancy suits of any kind. Wetsuits are permitted.
9. Only those participants who have trained and feel competent to complete the event, should enter the event.
10. We recommend wetsuits and goggles be worn by swimmers.
11. Each competitor will be issued with a transponder (timing bracelet) which they will be required to wear at all times during the race. It is the responsibility of competitors to ensure the transponders are securely fastened to them prior to entering and exiting the water. Non-returned or lost transponders will incur a $100 replacement charge.
For all inquiries in relation to the Bathing Box Classic, contact details are as follows:
bathingboxclassic@brightonlsc.com.au
21st Oct 2017 & 28th Oct 2017

Adult Bronze Course (18+)

- Course will be run on these 2 days as well as a few weeknights during this period. Interested persons can contact Paul Duckett on 0407) 821428. We would encourage parents of Nippers interested in assisting with Water Safety to attend.

26th Jan 2017

Swimland Great Australia Day Swim (Middle Brighton Pier)

(www.greataustraliadayswim.com.au)

- 1400m Open Water Swim

- 2500km Open Water Swim

- 650m Intermediate Swim

- 2/300m Swimland Junior Dash

Swimland Great Australia Day Swim - Video

9th Dec 2017

BLSC Bathing Box Classic

- 2600m Open Water Swim

- 1200m Open Water Swim
Club Championships
BLSC Club Championships were held on the 29/1/17